It's hard to discount how color affects our mood. Just think back to the last time you were in a light-filled room with bright colors versus when you sat down for a romantic dinner with soft lights and half-dark shadows.

Looking back, I'd say much of the Sunset Triangle Plaza's appeal comes from that bright green and polka-dot pattern. Frank Clementi of Rios Clementi Hale says the pattern was just a way for people to "recognize there's a change in the street," but I'd like to think everyone that heard the idea and saw it actually realized was tickled pink that such a playful mark appears on an otherwise stern streetscape.

I know I've written about the color, but since then, I've found a few projects that managed to delight with color and a dash of imagination. Scroll through these projects and just see if you can help but smile yourself. Imagine how far a little paint can go to make a forgotten patch of land into something warm and welcoming.

Ecole Maternelle Pajol

Paris-based firm Palatre & Leclere turned this four-classroom kindergarten on Rue Pajol in Paris's 18th arrondissement from a drab 1940s building to an engaging place for learning by literally painting rainbows on it.


Portugal Umbrella Canopy
Umbrellas aren't only used in the rain, in Águeda, Portugal, they also give pedestrians something to smile about. As mentioned on Colossal, almost nothing is known about this installation. I can't even imagine how the artist got so many umbrellas up there, but now I'm wanting to go see it for myself.
Japanese Gas Tank Art
And finally, even the prosaic gas tank gets a makeover courtesy of some zealous artists.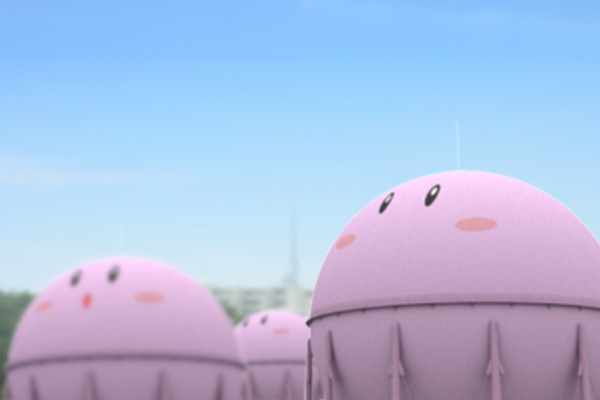 Kirby gas tanks were my favorite, but you can find more at Pink Tentacle.