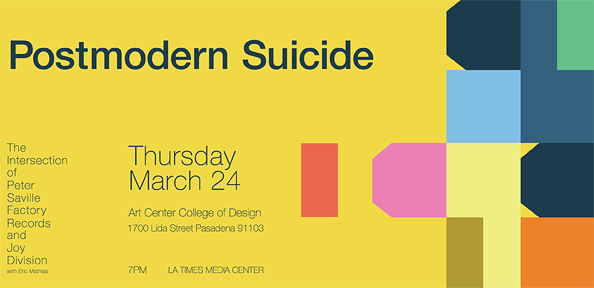 Design is everywhere. I write those words and mentally understand it, but an event like the Art Center's "Postmodern Suicide: The intersection of Peter Saville Factory Records and Joy Division" makes me realize once again how far-reaching design truly is.
"Postmodern Suicide" zips visitors back to graphic design history and how one man (
Peter Saville
) becomes a pivotal figure in graphic design and style culture through his work designing record sleeves. The discussion promises to intertwine musical and design history--protopunk, punk rock, post-punk and even new wave--and what images were used to capture their ethos.
For those of you who still have CDs lying around, time to take a second look at the artwork. What do you think that says about the era?
Postmodern Suicide
Art Center College of Design at Los Angeles Times Media Center
1700 Lida Street, Pasadena, CA
24 March 2011, 7-9:30 pm